Red Hat Certified Engineer Ex294 on Red Hat Enterprise Linux - Version 8 Overview
RHCE(Red Hat System Administration Training- RH294)
Red Hat Certified Engineer (RHCE) exam on Red Hat Enterprise linux 8 (EX294) tests your knowledge and skill in managing multiple systems using Red Hat Ansible Engine and executing common system administration tasks across variety of systems with Ansible.
Red Hat Certified System Administrators (RHCSAs) whose status is current and who pass this new exam will become RHCEs in RHEL8, which also counts toward becoming a Red Hat Certified Architect (RHCA). This exam(EX294) is based on Red Hat Enterprise linux 8 and Red Hat Ansible Engine 2.8.
EX200 - RHCSA Certification Exam - RHEL8
EX294 - RHCE (Linux Automation) Exam - RHEL8
RHCEs certified on Red Hat Enterprise Linux 7 or Red Hat Enterprise Linux 8 are considered for 3 years validity after the date on which the certification was earned. Your current status can be extended by passing additional Red Hat exams.
Red Hat Certified Engineer EX300 on Red Hat Enterprise Linux - Version 7 Overview
RHCE(Red Hat System Administration Training- RH254)
The course is focused on deploying and managing network servers running caching Domain Name Service (DNS), Maria DB, Apache HTTPD, Postfix SMTP null clients, network file sharing with Network File System (NFS) and Server Message Block (SMB), iSCSI initiators and targets, advanced networking and firewalld configurations, and the use of Bash shell scripting to help automate, configure, and troubleshoot the system. Through lectures and hands-on labs, students who have already earned the RHCSA certification will be exposed to all competencies covered by the Red Hat Certified Engineer (RHCE) exam (EX300).
Prerequisites
RHCSA certification or equivalent experience
Knowledge about Basic networking and OS.
---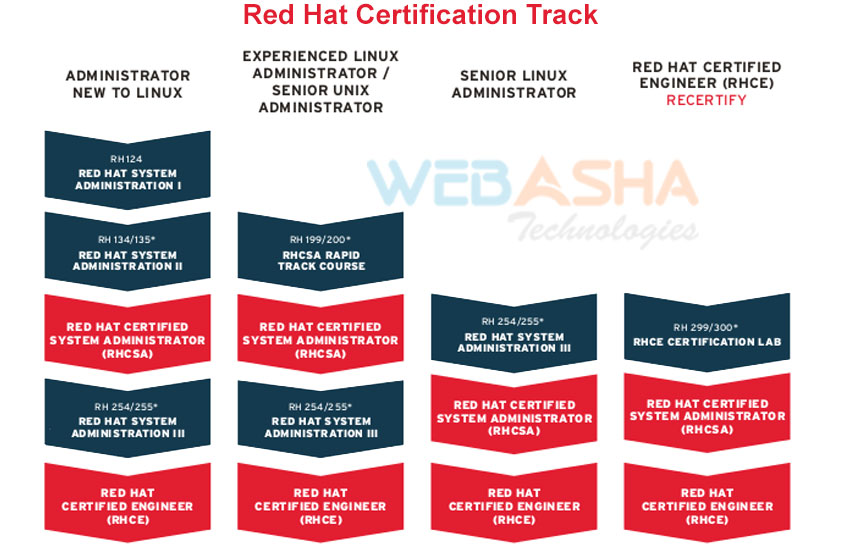 What You Will Receive?
We provide Original Red Hat Official Curriculum, Webasha provides a complete Red Hat Study kits to perform lab practical.
We have a team of experienced and certified trainers.
All of our trainers are certified in their respective fields.
Most of our trainers have experience of working in core and overseas training.
---
"Why You Choose WebAsha Technologies for RHCE Ex294 Training In Pune"
Learn RHCE from basic to advance level.
Live Project and Case study.
Job oriented course content.
Job assistance for fresher students.
Personal level training attention and project monitoring.
Small training batches for interactive training.
Customized training Programs.
Courseware includes all latest technologies.
Flexible Training Schedule- Courses can be delivered at your chosen convenient time.
Flexible group size.
Affordable Training Price.
Affordable course fee.
Globally recommended Official Curriculum.
Hands-on Instructor led training.
Post Training Support.
Specialized Batch for Corporate Clients.
Most advanced Training Resources –structured course material, learning CDs.
Full Time Lab Environment as per globally recommended standards.
Call 8010911256 Webasha Provides Linux Automation Certification Training & Exam in Pune. get course details, certification cost, fees, syllabus, duration, batch timings, Best real time Linux Automation training and certification from industry expert in Pune, India, Linux Automation training institute in pune. Top red hat training institute in Pune, RHCE Training in Pune, Best Linux Training institute in Pune, Redhat certified engineering training in pune, red Hat classes in pune,red hat certification training in Pune