Red Hat OpenStack Administration III CL310 Training and Certification Exam EX310 Version 16 Overview
The Red Hat OpenStack Administration level 3 (CL310) is targeted at network engineers, network admin, cloud operators, and cloud administrators who got to manage and tune OpenStack Networking for performance. In this course you'll manage the OpenStack Networking service (Neutron) with Network Functions Virtualization (NFV) to boost network performance.
The Red Hat OpenStack Administrator will also configure Distributed Virtual Routers (DVR), Open vSwitch with Data Plane Development Kit (OVS-DPDK) datapath, IPv6 networking in OpenStack, and deploy software-defined networking (SDN) with OpenDaylight (ODL).
A professional who completes Red Hat OpenStack Administration CL310 training will get an summary of the Red Hat Enterprise Linux OpenStack Platform architecture, this may assist you to become proficient in the integration of Red Hat Enterprise Linux (Rhel) OpenStack Platform with Red Hat Ceph Storage cluster features. Red Hat OpenStack Administration CL310 cloud certification training provides students with knowledge and skills to implement more advanced networking configurations using Neutron.
This course will be also helpfull to you prepare for the Red Hat® Certified Engineer (RHCE®) in Red Hat OpenStack exam (EX310).
Prerequisites
IT professionals who have earned a Red Hat Certified Engineer (RHCE) certification or maintain the equivalent experience with Linux.
Red Hat Certified System Administrator (RHCSA) or requisite level of knowledge is highly recommended.
Red Hat OpenStack Administration CL210 Training is highly recommended.
---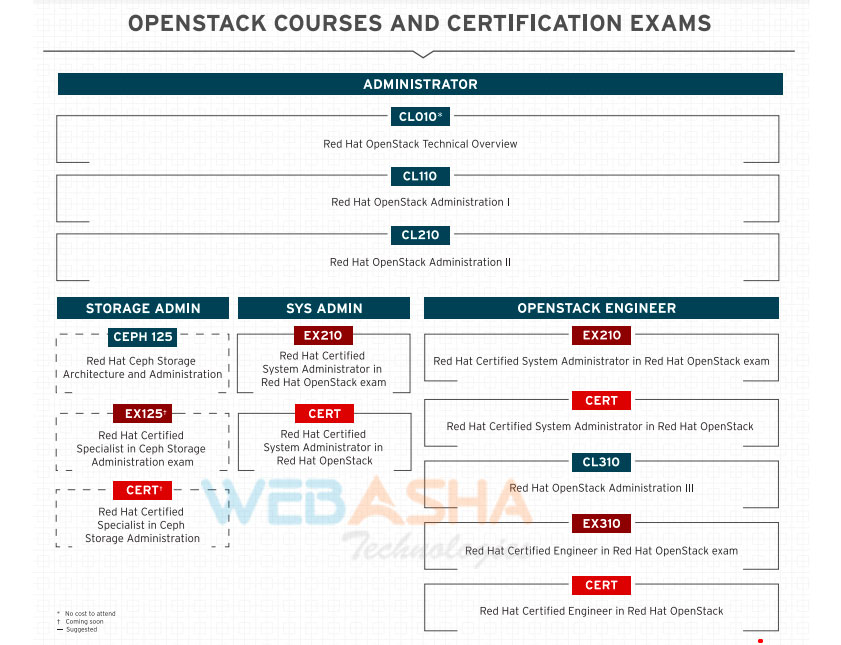 What You Will Receive?
We provide Original Red Hat Official Curriculum, Webasha provides a complete Red Hat Study kits to perform lab practical.
We have a team of experienced and certified trainers.
All of our trainers are certified in their respective fields.
Most of our trainers have experience of working in core and overseas training.
---
"Why You Choose WebAsha Technologies for Red Hat OpenStack Administration CL310 Training In Pune"
Learn OpenStack from basic to advance level.
Live Project and Case study.
Job oriented course content.
Job assistance for fresher students.
Personal level training attention and project monitoring.
Small training batches for interactive training.
Customized training Programs.
Courseware includes all latest technologies.
Flexible Training Schedule- Courses can be delivered at your chosen convenient time.
Flexible group size.
Affordable Training Price.
Affordable course fee.
Globally recommended Official Curriculum.
Hands-on Instructor led training.
Post Training Support.
Specialized Batch for Corporate Clients.
Most advanced Training Resources –structured course material, learning CDs.
Full Time Lab Environment as per globally recommended standards.
Call 8010911256 Webasha Provides OpenStack CL310 Certification Training & Exam in Pune. get course details, certification cost, fees, syllabus, duration, batch timings, Best real time Linux Automation training and certification from industry expert in Pune, India, OpenStack CL310 training institute in pune. Top red hat training institute in Pune, OpenStack Training in Pune, Best Linux Training institute in Pune, OpenStack CL310 training in pune, red Hat classes in pune,red hat OpenStack CL310 certification training in Pune, OpenStack Training in pune india, Ex310 certification exam preparation, Ex310 training