LPT (Master) Training Program: Advanced Penetration Testing Training & Certification Exam Overview
The LPT (Master) is the world's first absolutely online, remotely proctored LPT (Master) realistic exam, which demanding situations the candidates thru a grueling 18 hours of overall performance based, hands-on exam labeled into three realistic checks for six-hour duration every, which will test your perseverance and focus by forcing you to outdo your self with each new challenge. The examination requires the candidates to demonstrate a methodical method to check and validate security defenses. The LPT (Master) exam is evolved with close collaboration with SMEs and practitioners around the world after an intensive process role, job task, and skills-gap analysis.
Prerequisites
Have basic skills of computer & Networking knowledge is recommended.
---
Who is it for?
This new LPT (Master) Training Program is built for ECSA credentialed members who require advanced pentesting skills and a professional level certification to attest their skills to employers.
Penetration Testers
Network Administrators
IT Auditors
Information Security Engineers
Security Consultants
---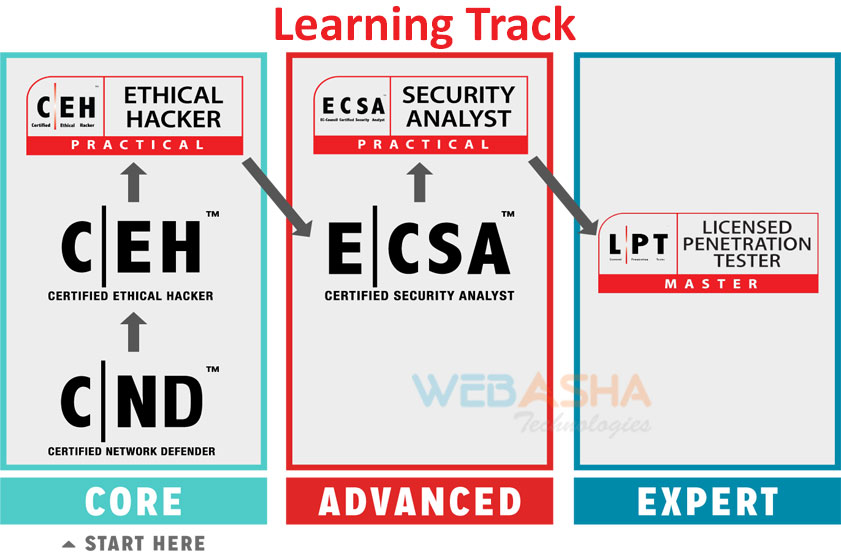 What You Will Receive?
We provide Original Ec Council Official Curriculum, Webasha provides a complete Ec Council Study kits to perform lab practical.
We have a team of experienced and certified trainers.
All of our trainers are certified in their respective fields.
Most of our trainers have experience of working in core and overseas training.
---
"Why You Choose WebAsha Technologies for LPT (Master) Training in Pune"
Learn LPT (Master) from basic to advance level.
Live Project and Case study.
Job oriented course content.
Job assistance for fresher students.
Personal level training attention and project monitoring.
Small training batches for interactive training.
Customized training Programs.
Courseware includes all latest technologies.
Flexible Training Schedule- Courses can be delivered at your chosen convenient time.
Flexible group size.
Affordable Training Price.
Affordable course fee.
Globally recommended Official Curriculum.
Hands-on Instructor led training.
Post Training Support.
Specialized Batch for Corporate Clients.
Most advanced Training Resources –structured course material, learning CDs.
Full Time Lab Environment as per globally recommended standards.
Call 8010911256 Webasha Provides LPT (Master) Certification in Pune. LPT Master training, LPT Master training course,LPT Master training institute pune,LPT Master training in pune,LPT Master Expert,Best LPT Master training in pune,LPT Master training center pune,LPT Master training viman nagar,online LPT Master training institute in pune,advance LPT Master training course in pune India