Containers, Kubernetes, and Red Hat OpenShift DO180 Overview
Webasha instruct you how to deploy, configure, monitor, and maintain OpenShift Enterprise
In this course content you will learn introduction of Containers, Kubernetes, and Red Hat OpenShift (DO180) that will be help you build core knowledge in managing containers through hands-on experience with containers, Kubernetes, and the Red Hat OpenShift Container Platform. These type of skills are required for multiple roles, including developers, administrators, and site reliability engineers.
Prerequisites
Red Hat Certified System Administrator (RHCSA) accreditation or proportionate experience is required. Red Hat Certified Engineer (RHCE) confirmation or comparable experience is prescribed.
For competitors who have not earned their RHCSA or RHCE affirmations, affirmation of the right aptitudes and learning can be acquired by passing the online abilities evaluation.
---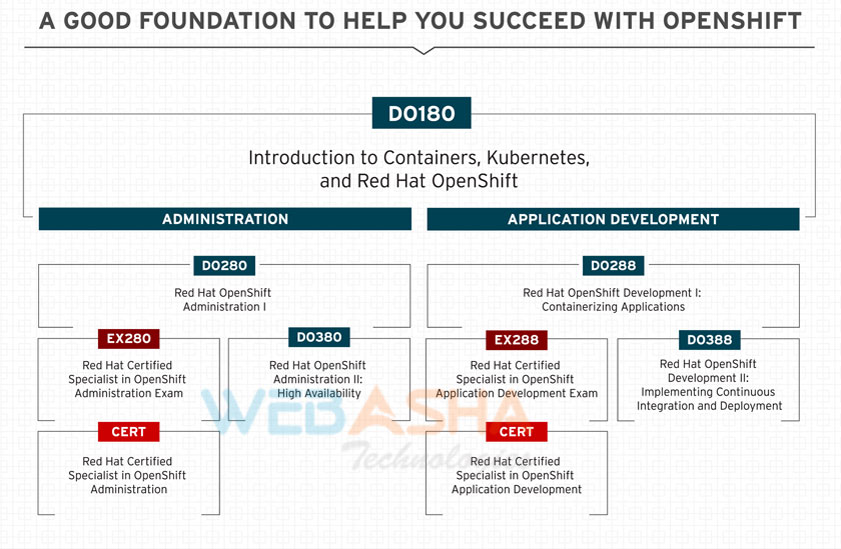 What You Will Receive?
We provide Original Red Hat Official Curriculum, Webasha provides a complete Red Hat Study kits to perform lab practical.
We have a team of experienced and certified trainers.
All of our trainers are certified in their respective fields.
Most of our trainers have experience of working in core and overseas training.
---
"Why You Choose WebAsha Technologies for Red Hat Containers, Kubernetes, and Red Hat OpenShift DO180 Training In Pune"
Learn OpenShift from basic to advance level.
Live Project and Case study.
Job oriented course content.
Job assistance for fresher students.
Personal level training attention and project monitoring.
Small training batches for interactive training.
Customized training Programs.
Courseware includes all latest technologies.
Flexible Training Schedule- Courses can be delivered at your chosen convenient time.
Flexible group size.
Affordable Training Price.
Affordable course fee.
Globally recommended Official Curriculum.
Hands-on Instructor led training.
Post Training Support.
Specialized Batch for Corporate Clients.
Most advanced Training Resources –structured course material, learning CDs.
Full Time Lab Environment as per globally recommended standards.
---
Red Hat Containers, Kubernetes, and Red Hat OpenShift DO180 Training Course Content
Call 8010911256 Webasha ProvidesContainers & Kubernetes DO180 Certification Training & Exam in Pune. get course details, certification cost, fees, syllabus, duration, batch timings, Best real time Linux Automation training and certification from industry expert in Pune, India,Containers & Kubernetes DO180 training institute in pune. Top red hat training institute in Pune,Containers & Kubernetes Training in Pune, Best Linux Training institute in Pune,Containers & Kubernetes DO280 training in pune, red Hat classes in pune,red hatContainers & Kubernetes DO280 certification training in Pune,Containers & Kubernetes Training in pune india
Getting to Know the Red Hat Containers, Kubernetes, and Red Hat OpenShift DO180
Certification Exam title : Not
Recommended Next Training & Global Certification Exam