CCNA : 200-301 (Cisco Certified Network Associate) Training & Certification Exam Overview
Introducing the new foundational CCNA 200-301 Program :
As today's Networking, Software and IT infrastructure are growing more and more interconnected in day to day requirement.To cope up with the technology career, in this changing scope , you need to know the latest networking technologies, IP Connectivity security, automation and programmability.
The new CCNA 200-301 certification course training by Webasha can take you to that goal.
The New CCNA 200-301 Program will help you prove your skills in todays need. The CCNA Certification will have single exam and training single course to cover a broad range of fundamental IT careers.
The new CCNA 200-301 program covers topics like
1. Network Fundamentals
2. Network Access
3. IP Connectivity
4. IP Services
5. Security Fundamentals
6. Aumation & Programmability
The CISCO CCNA 200-301 Program can launch your career through training and certification Exam. CCNA Certification requires single exam , Implementing and Administering Cisco Networking Technologies (200-301 CCNA)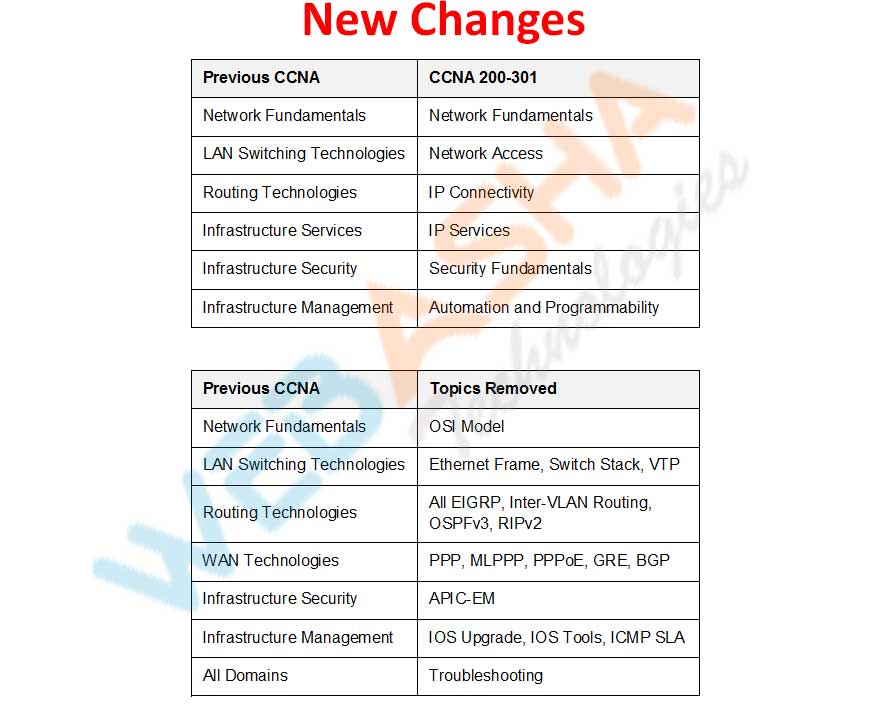 Prerequisites
What You Will Receive?
We provide Original Cisco Official Curriculum, Webasha provides a complete Cisco hardware rack to perform lab practical.
We have a team of experienced and certified trainers.
All of our trainers are certified in their respective fields.
Most of our trainers have experience of working in core and overseas training.
---
"Why You Choose WebAsha Technologies for CCNA Training In Pune"
Learn CCNA from basic to advance level.
Live Project and Case study on CISCO Devices.
Job oriented course content.
Job assistance for fresher students.
Personal level training attention and project monitoring.
Small training batches for interactive training.
Customized training Programs.
Courseware includes all latest technologies.
Flexible Training Schedule- Courses can be delivered at your chosen convenient time.
Flexible group size.
Affordable Training Price.
Affordable course fee.
Globally recommended Official Curriculum.
Hands-on Instructor led training.
Post Training Support.
Specialized Batch for Corporate Clients.
Most advanced Training Resources –structured course material, learning CDs.
Full Time Lab Environment as per globally recommended standards.
---

CCNA : 200-301 Training & Certification Exam Syllabus
Call 8010911256 WebAsha Provides CISCO CCNA Certification Training & Exam in Pune. Get course details, certification cost, fees, syllabus, duration, batch timings, Best real time CCNA training and certification on Router & Switch from industry expert in Pune, India, CCNA 200 301 training institute in Pune. CISCO Training in pune, ccna computer institute in pune, cisco ccna certification in pune, cisco ccna certification training in pune, cisco certifications institute in Pune, cisco certification exams in pune,cisco ccna lab in Pune,cisco ccna training online in pune,best ccna training in pune.
Getting to Know the Cisco Certified Network Associate (200-301 CCNA) Training & Certification Exam
Exam title: Cisco Certified Network Associate (200-301 CCNA)
Number of questions: 125
Duration: 120 minutes
Test Delivery: Pearson VUE
Exam fee: $300
Test Format: Multiple choice questions with a single answer or multiple answers, Drag and drop type questions, Fill in the blanks, Simulation type questions
Passing Score of CCNA 200-301
Passing score varies, but it is traditionally around 800-850 out of 1000
CCNA 200-301 as a Stepping Stone
Before February 24, 2020, Cisco certification candidates had many choices after getting their CCNA Routing and Switching certification. Those options narrow as of transition day, with the most likely choice being to pursue one of the five future CCNP certifications . As mentioned earlier, Cisco will be remove most of the existing other CCNA certifications (CCNA Cyber Ops is probably not being retired). Cisco also plans to consolidate the existing CCNP tracks into the following:
Enterprise (like the old Routing and Switching track)
Data Center
Service Provider
Collaboration
Security
To pursue these tracks, keep two important facts in mind moving forward.
CCNP Certification no longer requires CCNA Certification. In the past, you had to be CCNA certified to become CCNP certified in the same technology. No more. If you can pass the tests associated with a CCNP, you get that CCNP—no prerequisites at all. However...
CCNP Certification does require CCNA knowledge and skills. You still need to know the CCNA topics to succeed in most of the new CCNP certifications. So, you'll bypass taking the CCNA 200-301 exam, but you almost certainly couldn't bypass learning the material before pursuing CCNP.
So why did Cisco choose not to require CCNA(Cisco Certified Network Associate) certification anymore? They saw the prerequisite as a barrier for some people. Imagine you'd been working as a network engineer for eight years and knew CCNA-level content well—but didn't know a couple of of the small topics. However, you were interested in some CCNP topics. Cisco wanted to get rid of the barrier of creating that person learn CCNA topics just to be allowed to pursue CCNP.