RH294: Red Hat System Administration III: Linux Automation - Version 8 Overview
RHCE(Red Hat System Administration Training- RH294)
Automation has become a critical skill for Linux administrators to manage at scale and to efficiently manage systems across a hybrid cloud architecture.
As the technology industry has grown and changed, so has the demand for new skills that align with the Red Hat Certified Engineer (RHCE) credential. Red Hat Training is pleased to announce the release of the newly designed Red Hat System Administration III: Linux Automation (RH294) course and the Red Hat Certified Engineer Exam (EX294).
This release is the first RHEL 8 Red Hat Certified Engineer (RHCE) track course, continuing the RHEL 8 System Administration learning path that includes the recently released RHEL 8 Red Hat System Administration I (RH124) and Red Hat System Administration II (RH134) RHCSA track courses.
Shifting the focus of this RHCE course to the automation of system administration tasks, principally using Red Hat Ansible, the new training curriculum reflects the current reality for progressive organizations and the new reality for the technology industry. With IT organizations facing challenges related to scaling infrastructure efficiently, system administrators and engineers are expected to use scalable automation to deploy, configure, and manage operating systems, data centers and hybrid cloud infrastructure.
In Linux Automation we Learn how to automate Linux system administration(RH294) tasks with Ansible.
Red Hat System Administration III(RH294): Linux Automation training is designed for Linux system administrators and developers who need to automate provisioning, configuration, application deployment, and orchestration. Here You will learn how to install and configure Ansible on a management workstation; prepare managed hosts for automation; write Ansible Playbooks to automate tasks; and run playbooks to ensure servers are correctly deployed and configured.
This course is based on Red Hat® Enterprise Linux 8 and Red Hat® Ansible Engine 2.8.
Course content summary
How to Install Ansible / Red Hat Ansible Engine on control nodes.
How to Create and update inventories of managed hosts and manage connections to them.
How to Automate administration tasks with Ansible Playbooks and ad hoc commands.
How to Write effective playbooks at scale.
How to Protect sensitive data used by Ansible with Ansible Vault.
How to Reuse code and simplify playbook development with Ansible roles.
Audience for this course
RH294: Red Hat System Administration III: Linux Automation course is geared toward Linux system administrators, DevOps engineers, infrastructure automation engineers, and systems design engineers who are responsible for these tasks:
How to Automating configuration management.
How to Ensuring consistent and repeatable application deployment.
How to Provisioning and deployment of development, testing, and production servers.
How to Integrating with DevOps continuous integration/continuous delivery workflows.
Prerequisites
RHCSA certification or equivalent experience
Knowledge about Basic networking and OS.
---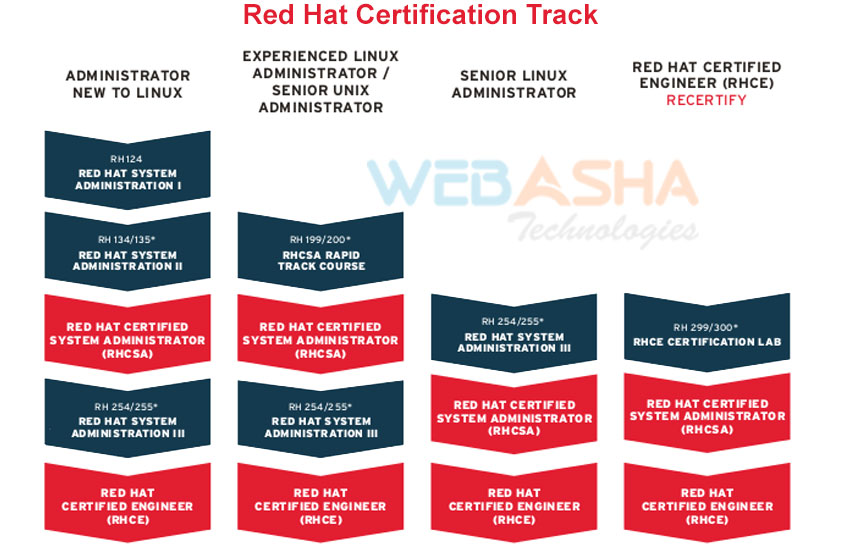 What You Will Receive?
We provide Original Red Hat Official Curriculum, Webasha provides a complete Red Hat Study kits to perform lab practical.
We have a team of experienced and certified trainers.
All of our trainers are certified in their respective fields.
Most of our trainers have experience of working in core and overseas training.
---
"Why You Choose WebAsha Technologies for Linux Automation Training In Pune"
Learn Linux Automation from basic to advance level.
Live Project and Case study.
Job oriented course content.
Job assistance for fresher students.
Personal level training attention and project monitoring.
Small training batches for interactive training.
Customized training Programs.
Courseware includes all latest technologies.
Flexible Training Schedule- Courses can be delivered at your chosen convenient time.
Flexible group size.
Affordable Training Price.
Affordable course fee.
Globally recommended Official Curriculum.
Hands-on Instructor led training.
Post Training Support.
Specialized Batch for Corporate Clients.
Most advanced Training Resources –structured course material, learning CDs.
Full Time Lab Environment as per globally recommended standards.
Call 8010911256 Webasha Provides Linux Automation Certification Training & Exam in Pune. get course details, certification cost, fees, syllabus, duration, batch timings, Best real time Linux Automation training and certification from industry expert in Pune, India, Linux Automation training institute in pune. Top red hat training institute in Pune, RHCE Training in Pune, Best Linux Training institute in Pune, Redhat certified engineering training in pune, red Hat classes in pune,red hat EX294 certification training in Pune